Can you believe it? This year Women's Circus turned 30! To celebrate this momentous birthday we're digging deep into our archives over the next three weeks, sharing highlights of our history with photos, videos and reflections from some of our beloved community members.  
November is particularly momentous as it marks the premiere of our first show Women and Institutions performed at our original home, Footscray Community Arts Centre (now Footscray Community Arts) all the way back in 1991.  
Lucky for us, the performance was captured on film and we are thrilled to premiere it online with you after many years in our vaults along with an interview with founding member Annie Fayzdaughter about her time in the show. 
Show Background 
Directed by founder Donna Jackson, Women and Institutions took audiences on an adventure along the Maribyrnong River and railway tracks, with performers knitting on unicycles, swinging out of trees and performing with fire before being ushered in to a large seating bank under the night sky for a spectacle of aerials, acrobatics, stilt-walking, juggling, bike balancing and more.  
This incredible large-scale outdoor performance was created with over 50 volunteer performers and crew and laid the foundations and values of all we do at Women's Circus; imagination, empathy, supported risk, inclusion and community.  
Creatively, it also set the tone for our next 30 years, helping Women's Circus discover what people loved to see and be part of; big group work, live music, and activating unconventional spaces. Seeing so many come together to make feminist art using circus was something Melbourne had never seen before, and audiences loved it.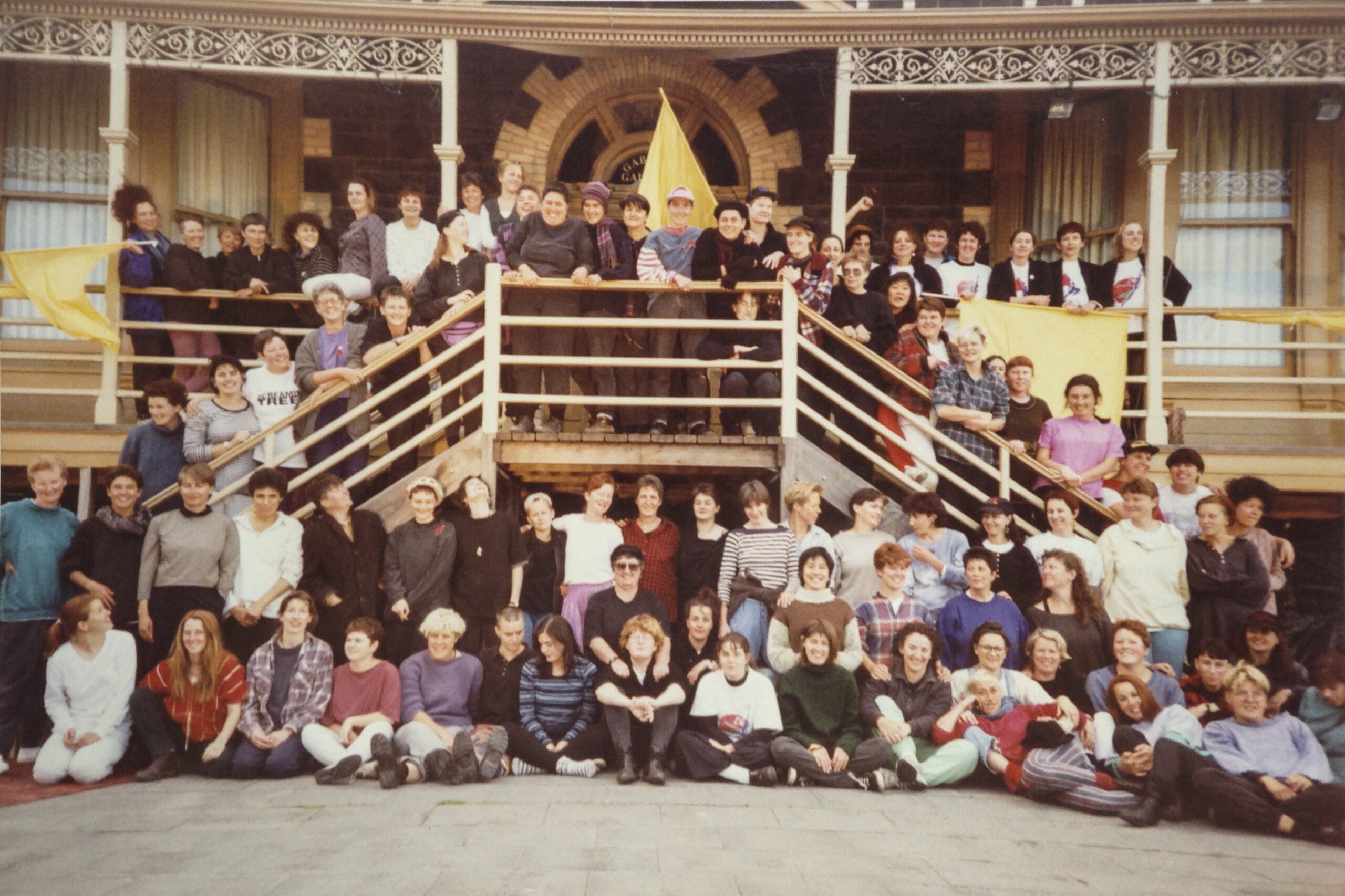 The original Women's Circus crew in 1991, all big smiles, warm hearts on the steps of our original home, Footscray Community Arts. 
Interview with founding member Annie Fayzdaughter 
Women's Circus was a one-off creative project run out of Footscray Community Arts. It was well before social media and mobile phones made spreading the word as easy as it is today. How did you discover the Women's Circus and decide it was for you? 
Three different friends rang me on the same afternoon to insist I should go to this circus thing. After the third call I thought there could be something in it, so I turned up thinking it was just a show. Instead, it was an invitation to join! No experience necessary! I could trade my time and skills as labour exchange for workshops and received a free Women's Circus drink bottle, t-shirt and car sticker. It seemed too good to be true. Why not I thought, this could be a laugh!
 
What were the most exciting things about the early years of Women's Circus for you?
Being part of hundreds of women training together, making shows and telling feminist stories. Getting to know the techies and learning back stage and rigging skills. Laughing and falling over and getting stronger. Performing and learning dangerous skills safely like aerials, fire and high stilts. Becoming a circus trainer in 1992. Directing part of 1994 show Death the Musical, and most importantly being part of an awesome organisation championing women and finding a place that made me feel like I belonged.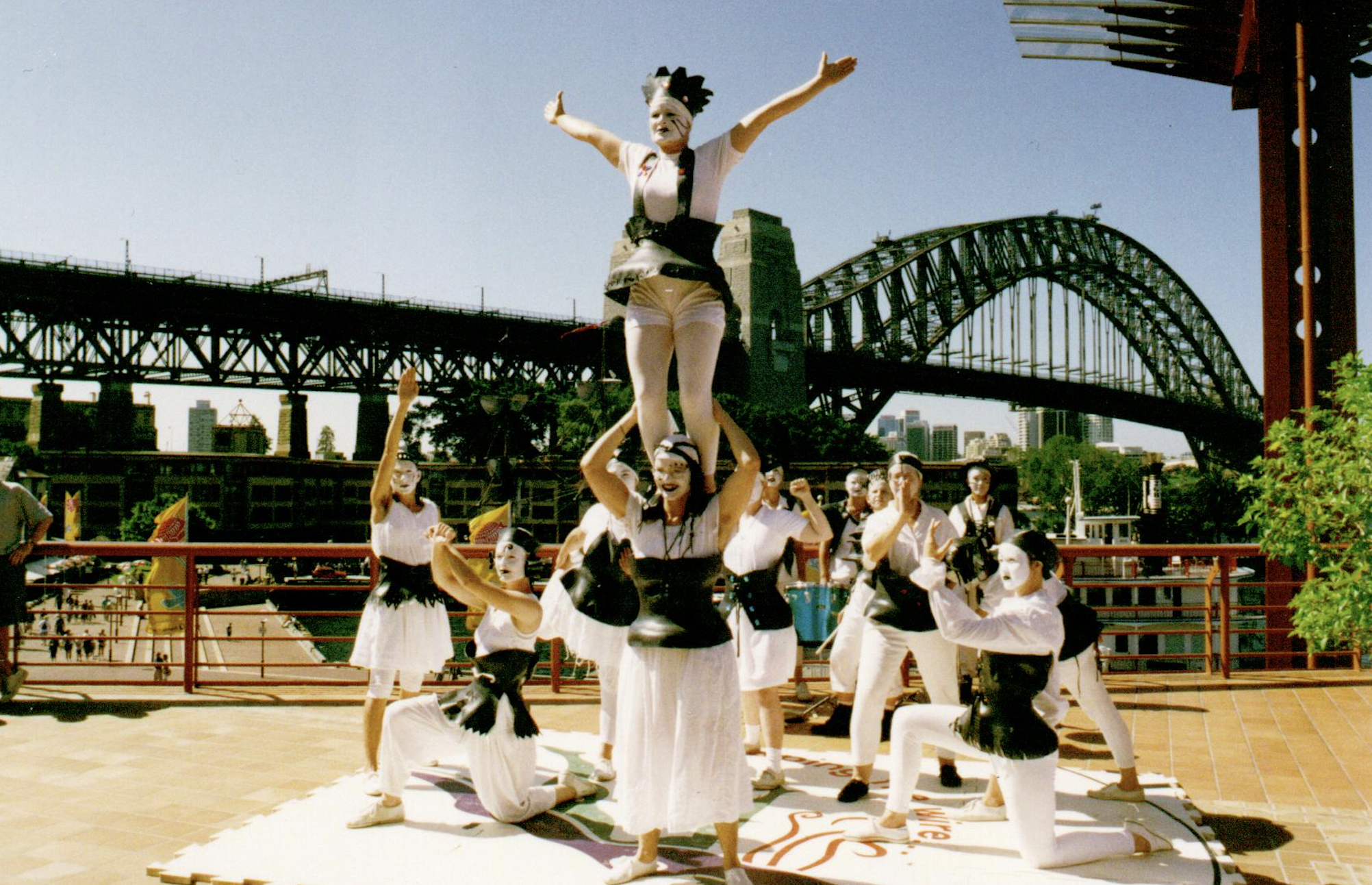 Women's Circus crew performing at Circular Quay Sydney 1996 as part of Sydney Festival. Annie bases two-high (front centre)
 
There's some wonderful footage of you and your fellow performers in the first show Women and Institutions. What was your favorite part of creating and performing in this show?   
I loved having a chance to represent strong rebellious women and being part of an avant-garde project. It was really exciting getting to use circus as a dynamic political tool. Also performing trapeze for the first time was really fun!
 
You've been an active member with Women's Circus since it first began and you've been in every show! That's an amazing achievement. What has kept you coming back after all these years?  
It's still a community that shares and cares about each other. It's not rooted in the past and moves adaptively towards the future. It works for the community and not the profit margin. There are still amazing creative opportunities to participate in for a diverse range of ages, abilities and cultural communities. It still gives me a reason, avenues and motivation to be as fit, strong and healthy as I can be.  
Watch Women and Institutions (see if you can spot some familiar faces!).
 Help us make another 30 years of circus dreams come true – donate now.