First Nations led circus company Na Djinang has been busy in Women's Circus training space through April, preparing for their season run of Arterial at CIRCfest (Meanjin/Brisbane).  
We chatted with new Women's Circus trainer and Na Djinang ensemble member Maggie Church Kopp about her love of circus, and what makes Arterial such a unique show.
Maggie is an Arrernte woman born and raised in Mbantua (Alice Springs). She has been hanging off trapezes since before she could walk and has a lifelong love of all things circus. She has performed at many festivals including Woodford Folk fest, Wide Open Spaces and Karnidale. She has trained with Circus Oz (Blakflip 2018) and The Flying Fruit Flys (NTP 2019), and joined the Na Djinang ensemble in 2021.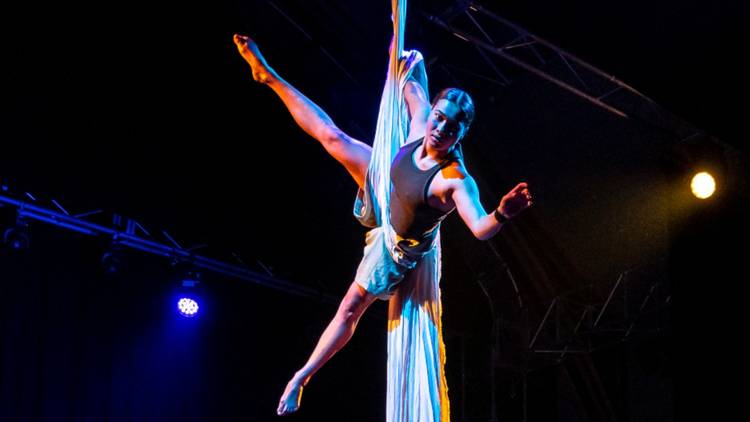 Image: Maggie performing aerial tissu in Arterial (credit Tiffany Garvie)  
You've been a circus enthusiast your whole life. What keeps you passionate about it and your practice?  
Circus for me has always meant community, for people to come together and have fun. While this remains true, the more I learn, the more its horizons expand. Circus is physically versatile and can tell all kinds of stories. As an artform it brings people together like no other.  
It's been a joy to see Arterial behind the scenes. The process of making and performing it looks like an incredible experience. What have been the highlights of working on the show for you?  
It's a rewarding project because of the stories that are embedded. It is a personal journey for us performers because it explores the joy, pain and care felt by our people. The rehearsal process is especially rewarding because as young Indigenous artists, we are given a space to come together and express our collective identity and that of those who have come before us. 
Na Djinang is the only First Nations led circus company in Australia. What positive impact do you think the company has in the circus sector and personally for your practice?  
At Na Djinang I have formed genuine relationships that are built off mutual respect and trust. This provides a culture that is not only natural but also fundamentally necessary to create and tell the stories we do. It connects young people, and in the case of Arterial, young proud First Nations people, to express and explore both the body and the mind. This kind of dynamic is rare especially within a professional setting. 
Join Maggie for Aerials-All Levels in Term 2. 
Check out the trailer for Arterial below and find out more.