First Nations led circus company Na Djinang have spent May rehearsing in our training space for their upcoming show Of the Land on Which We Meet at Melbourne Fringe Common Rooms.   
We chatted with Na Djinang Founder and Artistic Custodian Harley Mann about what inspired it's beginnings, company highlights and advice for budding circus artists.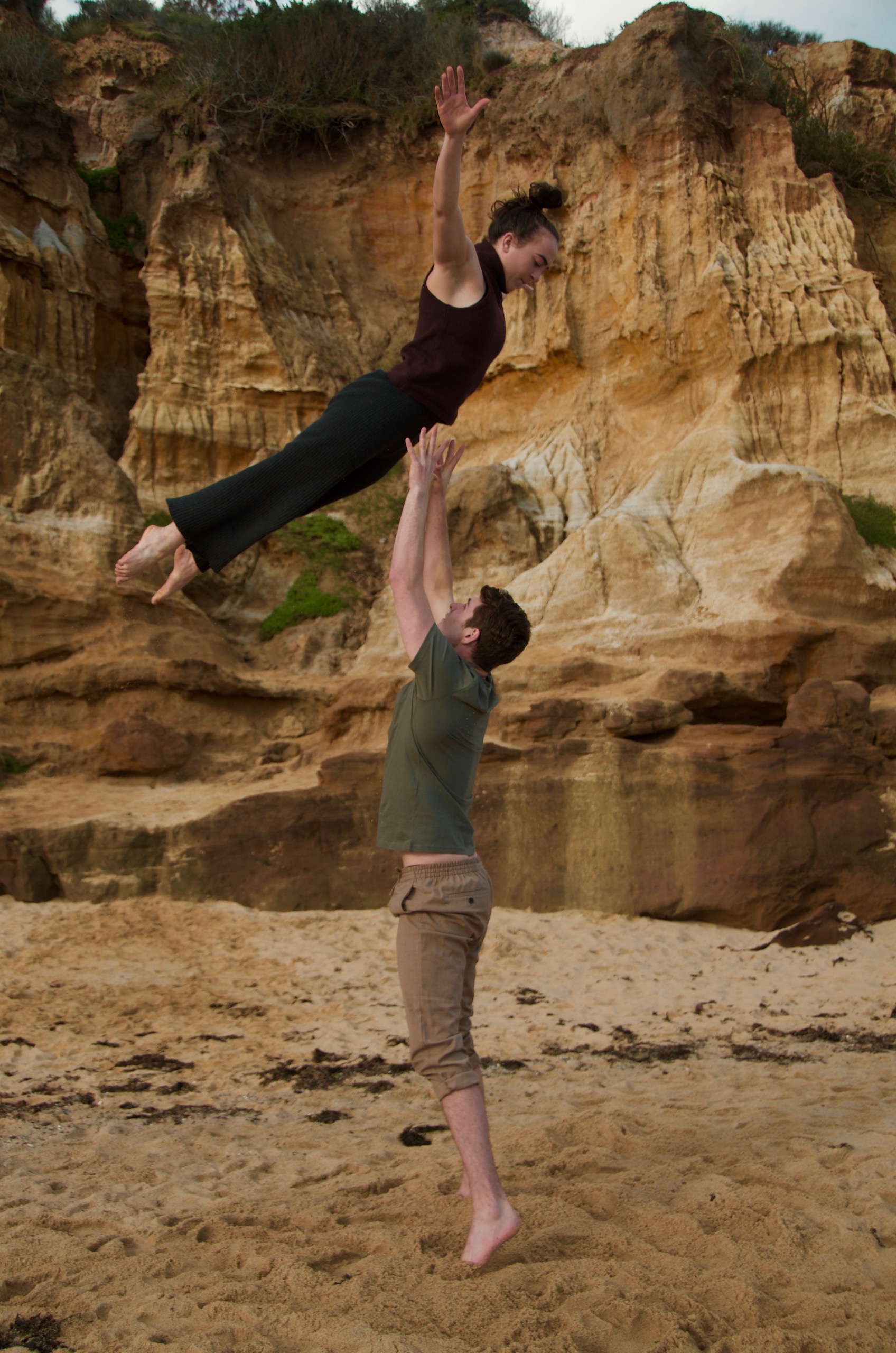 Image: Harley lifts fellow ensemble member Isabelle Champagne-Chittick in the air (photo credit: Annie Fitzer)  
Harley Mann, is a Wakka Wakka man from Queensland, who grew up on Gadigal Country New South Wales.  
Drawing on his own Aboriginal heritage as inspiration Harley founded Na Djinang Circus in 2017. Harley has since graduated with a bachelor of circus arts and worked with some of Australia's leading contemporary circus companies including, Circa, Circus Oz and Casus.  
Under Harley's guidance, Na Djinang's highly successful work Common Dissonance was nominated for a Green Room award for best circus. In 2021 Na Djinang premiered a sold-out season of Arterial as a part of the Yirramboi Festival. 
Harley continues to deepen his circus practice while he tours, creates, and develops what he hopes is a significant contribution to Australia's circus industry. 
What inspired you to start Na Djinang? 
At first Na Djinang was just an opportunity to create and perform. I was really fresh as an artist and I just wanted to tour the world and get on stage. But as the company grew and I had more opportunities to engage with the circus community, the importance of Na Djinang – our values, our approach to making work and the space we fill – became clearer to me.  
I hope we can continue to help make space for disenfranchised people to be a part of the circus and arts community. 
Your upcoming show Of the Land on Which We Meet explores the acknowledgment of Country. What drew you to this as a subject and to create the new work? 
This work was born from a very particular moment in time. As a society I think we are on the edge of change as we shift into a more culturally aware era, but in saying that there are still many people that recognise the importance of cultural literacy but don't understand the value of it.  
I've noticed a growing number of generic and tokenistic acknowledgments of country in recent times, and I wanted to explore how I feel about that in a circus work. At the same, we're (still) living through a pandemic which further disconnects people from Country. So that question – "What does it really mean to be on Country?" – felt like a rich topic to sink my teeth into. 
What has been a highlight for Na Djinang since it's beginnings? 
The people. Over the past couple of years, we have been privileged to work with so many amazing artists, elders, photographers, videographers, production staff and so on. It is our mob that makes our work special and without them it wouldn't happen.
This was especially special when we made Arterial in 2021, it was a very emotional work in the middle of Covid and lockdowns. Somehow we managed to create and premier this work to a full audience, with no masks and it really felt like a chance to reconnect with our community when it was really needed.
You and the Na Djinang crew have been rehearsing in the Womens Circus space for the past couple of months. What have you enjoyed about being here? 
For me, the Women's Circus has a real energy and uncompromised purpose, and  that's something I really respect. I think there is a societal and governmental pressure on arts companies to compromise their beliefs to improve the bottom line, and it's been so heartwarming and inspiring to work with a company that never sacrifices their communities needs for financial gain.
Do you have any advice you would like to share for First Nations young people/absolute beginners wanting to get into circus who might feel unsure where to start? 
Ask for help. Circus and the arts sector can feel scary and hard to find your feet, but there are so many people out there with years of knowledge who want to help the next generation be the best they can be. 
Of the Land on Which We Meet runs 25-28 May at the Melbourne Fringe Common Rooms.  
Find out more about Na Djinang and Harley.